Dutch Way Snow Removal Services
Request FREE QUOTE!

One Time Snowplows...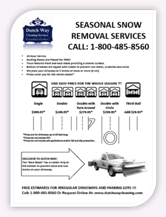 Dutch Way Cleaning Services offers you reliable snowplowing and removal services, whether it be for your driveway, parking lot, or sidewalks.

Seasonal Contracts...
Seasonal snow removal and salt application contracts available, pricing will vary per region.

Quality Equipment...
Dutch Way Snow Removal uses only high quality snowplowing and salt application equipment, our fleet is well maintained, and we take pride in providing you a professional experience.

Request FREE QUOTE!
Locations in Ontario Canada
Phone:
(800) 485-8560
Are you interested in a Cleaning / Home Care career?
Currently accepting applications for the following areas:
Brantford, ON, London, ON, Tillsonburg, ON, Woodstock, ON
Simply fill out our online application form.